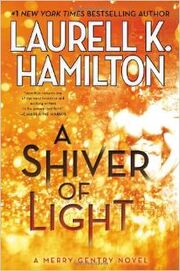 The ninth book in the Merry Gentry series.
Merry Gentry, former private detective, full time princess has left the courts to proect her unborn children and the men she loves and has returned to exile in Los Angeles.  Both courts are seeking her favor to help solve their long infertility problems and ensure they can have children of their own.  Taranis is suing for visitation rights, claiming one of the triplets is his.
Now Merry must do anything she can to protect her children, her loves and keep a brewing war from spreading to the humans of her world.
Merry Gentry series