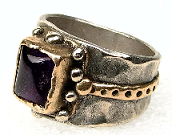 Beathalachd or Vitality is a heavy, dark bronze ring of power.  The ring steals the life and vitality of the bearer's opponent and gives them to the bearer.
The ring is given to Sholto as a sign of Queen Andais's favor and command to kill Meredith.  
Sholto wears the ring while he battles Doyle.